Library
Our Adams library is filled with numerous titles for all students to enjoy. Each classroom has a 30 minute library visit scheduled each week to hear a book read by our library media technician, Ms. Rue, and to check out a book to take home. Ms. Rue also welcomes students to the library throughout the day to find a book to fit their needs.
Library Regular Classroom Checkout Schedule
Mon
8:15-8:45 Williams
9:10- 9:40 Joos
AM Recess Library Open
10:15 – 10:45 Macbeth
1:40 – 2:10 Kittel
Tues
8:45-9:15 Abrams
9:15 – 9:45 Criscione
AM Recess Library Open
10:15-10:45 Oleson
1:05-1:35 Dykes
Wed
9:10-9:40 Gray
AM RECESS No Checkout Strolling Storyteller –on AIM track
10:15-10:45 Rodriguez
11:05-11:35 Soot
Thur
8:15-8:45 Harris
9:15-9:45 Reeves
AM Recess Library Open
10:15-10:45 Sharp
12:50-1:20 Tinsley
Fri
8:15-8:45 Ash
9:05-9:35 Sussman
AM Recess Library Open
10:30-11:00 Lashley
12:50 – 1:20  Davis  (extra early release day will be 12:00-12:30)
Kinder, 1st,2nd , 3rd,4th,5th
For Daytime Schedule Questions – please contact Echo Rue
OPEN CHECK OUTS are during recess (with class pass):
everyday except WED
OR   Tu/Thu  before 7:55-8:05 and after school
Students enjoy the Adams library in many ways.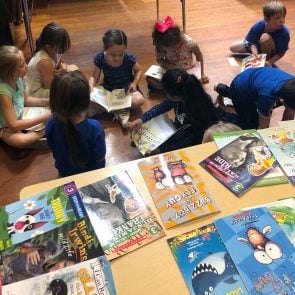 Library Resources
If you would like to volunteer in the Adams Library, please contact our librarian, Echo Rue echo.rue@corvallis.k12.or.us. Other resources are available below.