Final Week of School
"Not everything that is faced can be changed, but nothing can be changed until it is faced." – James Baldwin
SPRING RUN!!! – VIRTUAL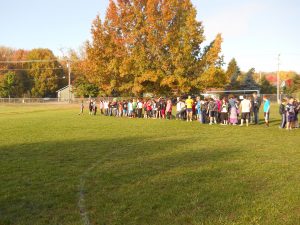 The 12th Annual Spring Run/Walk will happen on Tuesday morning, June 16th. Log into the Zoom Meeting at 9:30. We will start moving at about 9:40. Join in with…
Mr. Abrams in Philomath,
Mrs. Sussman, Ms. Bowman, and Mrs. Raleigh in her yard
Mrs. Bannister around her home
Ms. Reeves near Lincoln Elementary
Mr. Behrens on the AIM course
Mrs. Torgerson at the mic
For the 24th time, we are all together, either inside or outside, celebrating each other's company and good health. Be creative about your movement:
run/walk in your neighborhood, respect social distancing
run/walk up and down your block
run/walk in your driveway
run/walk inside your house
jump on a trampoline or jump around/ or inside your house
throw in skips or hops or gallops
dribble a ball while you're in motion!
Here's the link/info for the Zoom Meeting at 9:30; https://us02web.zoom.us/j/4625616538?pwd=OG5sbG5MZFZLTW04RFhDN0V4dXNyQT09
Meeting ID: 462 561 6538
Password: springrun
When you join the meeting, you will be on mute.
Select "speaker view" to see where Adams staff are running and walking.
DO NOT run/walk with your iPad or phone, just move!
Once the event starts, keep going for 15 minutes, but it's OK to check the meeting site once in a while.
At the end, you can place a message in the chat box.
Certificates will be sent via Seesaw and Google Classroom.
A recording of our event will be available afterwards, so you won't miss a thing if you get out there, no need to sit and watch.
CLASS LISTS
Class assignments for students will be sent out later in August.  Since the plans for our return to school are still in process, we want to wait to build class lists until we have the most relevant and up-to-date information.  Please look for a district update soon.
COMMUNITY FLYERS
Community flyers are now shared on the Corvallis School District website! Learn about programs, sports, and opportunities in our community. Flyers posted this week are listed below:
Classes and programs:
Corvallis Youth Symphony Auditions
Community Resources:
Vina Moses Center Back to School program
Please visit the community flyers page for all current flyers:
https://www.csd509j.net/departments/communications/community-flyers/
¡Los volantes comunitarios ahora se comparten en la página web del Distrito Escolar de Corvallis! Entérese de los programas, deportes y oportunidades en nuestra comunidad. Los volantes publicados para esta semana a continuación:
Recursos comunitarios:
Programa de regreso a la escuela de Vina Moses Center
Por favor, visite la página de volantes comunitarios para ver los más recientes volantes:
https://www.csd509j.net/departments/communications/community-flyers/
Keeping Your Family Safe and Healthy
Our school year is quickly coming to a close and as restrictions on gatherings are reduced, Benton County Health Department staff have compiled information to help you keep your family safe and healthy. Use the links below for more information:
Extended School Cancellation and Social Distancing
COVID-19 and Celebrating Milestones
Manteniendo a su familia segura y saludable
Nuestro año escolar está llegando a su fin rápidamente y a medida que se reducen las restricciones en las reuniones, el personal del Departamento de Salud del Condado de Benton ha recopilado información para ayudarlo a mantener a su familia segura y saludable. Utilice los enlaces a continuación para obtener más información:
Para Familias- Cancelación Escolar Extendida y Distanciamiento Físico
El COVID-19 y graduaciones o ceremonias de transición entre grados

El COVID-19 y los adolescentes